Yesterday, while in Buffalo, NY for the World Junior Hockey Championships, Emerson Etem took to his twitter account to express his feelings about his current surroundings: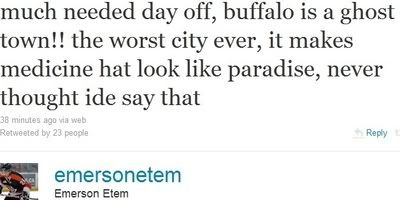 While the local media in Buffalo took offense to this, the national media chose to cover their reaction and Emerson's polite backpedaling.  It has even been covered on Puck Daddy.  Emerson has since deleted the tweet and seems to have properly handled his public apology, but I wanted to chime in as a (totally unnecessary) advocate for Emerson as well as react to the coverage of the reaction to the original tweet (and you thought Inception had a lot of  convoluted levels of complexity).
First of all, Emerson Etem need not back away from his feelings on visiting Buffalo, NY near the end of December.  Our own Bobby Ryan shared very similar thoughts on Buffalo not but three weeks ago.  Does anyone else remember the radio broadcast of the Ducks-Sabres on the 21st?  Wood and Carroll were conversing about how the Ducks all playfully tease Todd Marchant about his hometown whenever they play in Buffalo.  The point I am trying to make is that this is not an opinion that is unique to Etem.  It is similarly held by several of his future teammates, and while the tweet may not have been the best way to say "thanks for having me" to your host city, it isn't completely unwarranted.  He's a young kid that can't go out to the bars (not that I would advocate THAT) and the town seems to close down at 5 p.m. on a weeknight.  Oh, yeah, and there's been a blizzard, too.  Everyone has had nice things to say about HSBC arena, and the few fans that have shown up are, by all accounts, great.  It's just tough to get excited about playing in a tournament when as a town, Buffalo does, in fact, suck.
Secondly, the many tiers of offense-taking that have stemmed from this tweet are quickly bordering on the ridiculous. The Buffalo media seem to be trying to make this into a news event, while the national media are attempting to make the Buffalo media's reaction into a news event.  Greg Wyshynski (whom I usually enjoy quite a bit) has the worst line in this whole thing.  I really want to give him the benefit of the doubt and say that this was unintentional and just not thought out:
Whatever. When he comes to play the Sabres as a Duck, show up dressed as a ghost or something.
Really, Wysh?  You think that's a good plan?  Tell the Sabres fans to put on a white sheet and go to the game when the african-american hockey player comes to town? Like these guys?
Yeah, I'm going to list that in the hall of fame for bad ideas.